Janney & Janney Legal Support Service is proud to be your vendor of choice for submitting documents electronically with the Orange County and San Francisco Superior Courts' e-filing systems. The benefits of using us for your E-Filing needs would include; our friendly knowledgeable staff ready to assist you in minutes, user friendly interface, searchable e-filing history, e-service capable, and a fast hassle free electronic filing experience saving you time and money!
Our E-Service feature allows you to serve parties electronically at the push of a button. The system will e-serve the parties, generate an electronic service proof, and file the proof at the same time it files your documents electronically with the court, all in one transaction!
We take pride in our customer service, and have experts standing by to answer your call!
Janney & Janney is also certified through Odyssey eFileCA. We plan to roll out the different counties available through eFileCA over the next several weeks. We are currently eFiling in Orange County and San Francisco and will be ready for Los Angeles when it transitions. 
Setup an e-filing account today – NEW E-FILING ACCOUNT

Electronic filing is the process wherein the filer (Attorney or Pro se) completes documentation electronically and submits the filing and the support documents through a web enabled application. This web based application integrates directly with the court filing management systems (CCMS).
Click here for the California Rule of Court governing actions by the court on receipt of e-filings (confirmations, notices of rejections, after-hours filings, technical issues, etc.).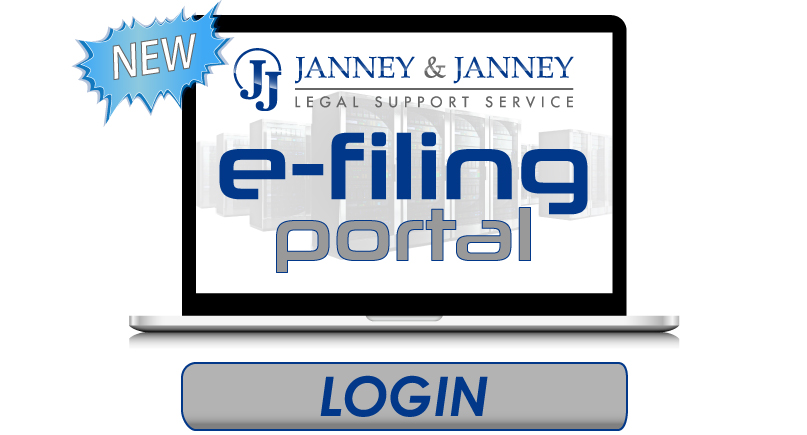 ______________________________________________________________________________

If you already have an e-filing account setup with us and have a username and password, but are having trouble getting started, please watch this tutorial video – CLICK HERE
______________________________________________________________________________
USERGUIDES